Welcome screen
The welcome screen appears as this: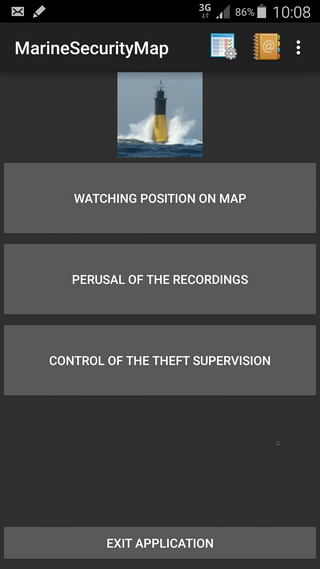 If you select the main menu (Menu button, or selection of icons in the menu bar following the version of Android), you obtain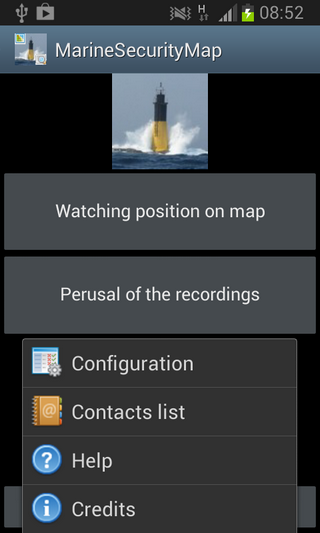 The possibilities are:
Configuration
List Contacts
Help
Information

NB: to find the menu button or the menu function according to telephones or versions of Android,
consult the help page available by clicking here...
The choice of the menu "Information" gives you access to the version number and the author of the application
The choice of the menu "Help", gives you a basic help onto the functions of the software and a Web link towards this site to obtain a detailed help.
To continue, it is necessary to choose at first the menu "Configuration".
The following screen appears:
You can select if the map shown on the screen will remain always visible (ideal for a real-time follow-up)
You can define the language then
It is then necessary, to add the various contacts to be followed (1 or several)
Choose the menu "List contacts"
The following screen appears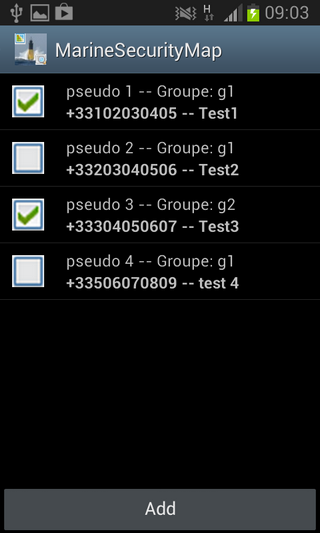 Click on to "Add", the screen for editing the parameters of the contact appears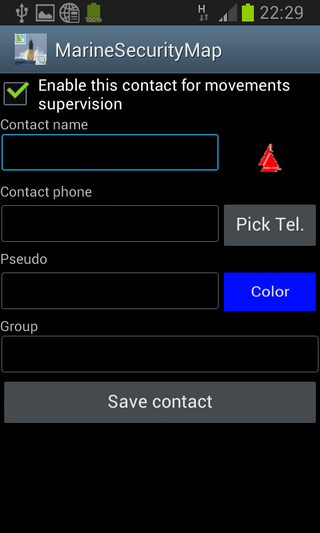 Best is to look first for the phone number directly in your telephone by clicking the button "PickTel."
Like that, the name and the telephone of the contact will be directly informed.
You necessarily have to give a pen name (not too long) as the name of the boat for example. It is this pen name which appears on the map.
The naming of a particular group will allow you to filter then in the display of the various tracks. For a regatta, you can create groups corresponding to the categories, or to the circuits to be made for example.
You can also takes advantage to choose a color for the track on the map and a icon to represent the current position of one or several boats.
If you activate the checkbox at the top of the screen, the contact will be said enabled and thus its track will display on the map, otherwise it will be masked. It allows you to keep in base several contacts and to use them at the need (for different regatta for example).
Once the data was entered, "Save" your contact
Add all your contacts to follow in the same way
If you want modify an already created contact, you have to click above in the list of the contacts.
The following box of dialogue appears. She allows to Delete the contact, to activate it or to disabled directly without passing by the screen of edition of the contact, or to edit it to modify one of his parameters.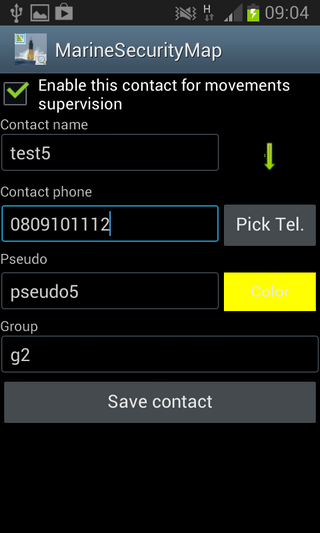 ---