English:

MarineSecurity is designed for the owners of boat who want watch their boat (held by the anchor, the theft of the boat, the theft of the engine ashore)
but also their
motorhome, caravan, vintage car, motorcycle
(vibration and / or displacement).
MarineSecurity also allows to give
your position during a regatta to a PC Course
.
MarineSecurity
is a software for mobile phone and tablet under Android system.
Using th phone's GPS or GPS/SMS, it alerts you from bad anchoring or from thieves when the boat is alone at mooring buoy. It can also be use to follow participants of a regatta.
Use is very simple and this software can give you big services. For example, watch the good anchoring when you sleep during a night with wind !
The precision of the system depends on the material precision of the GPS and on the conditions of satellite reception.
MarineSecurityMap
is a free complement which allows to show positions and route of your boat on a Google map from the positions received by SMS.
Two possible applications:
- Follow the movement in real time of your boat on Google Map.
-
Manage a regatta
(several broadcasting boats of location messages) in real time
It allows to read all the location messages sent by MarineSecurity by SMS and stored in the telephone.
It shows them then in the form of points and plans on Google Map V2
For a management of group of boats (regatta), possibility of managing for every boat (contact) one icon, a different color of plan, a group of affection and a pen name.
Filtering in the screen by contact, a date or group.
Possibility of backup the recordings filtered to run them later.
Possibility of deleting the received SMS
Possibility of blocking the sleep mode during the display of the map with the preferences.

MarineSecurityMap coupled with MarineSecurity and SIM cards with unlimited SMS (the use of SMS text allows to avoid SMS data which are except from commercial package) on the various boats of the regatta, you have a supervicion system very cheap. Next evolutions are planned as the addition of fixed points as buoys of rotation to define the course and verify the good passages of boats!
The SMS covers in 2G technology go up to 10 miles at sea and thus allow to manage coastal regatta.
Plan of functioning of MarineSecurity and MarineSecurityMap in theft surveillance mode or regatta mode.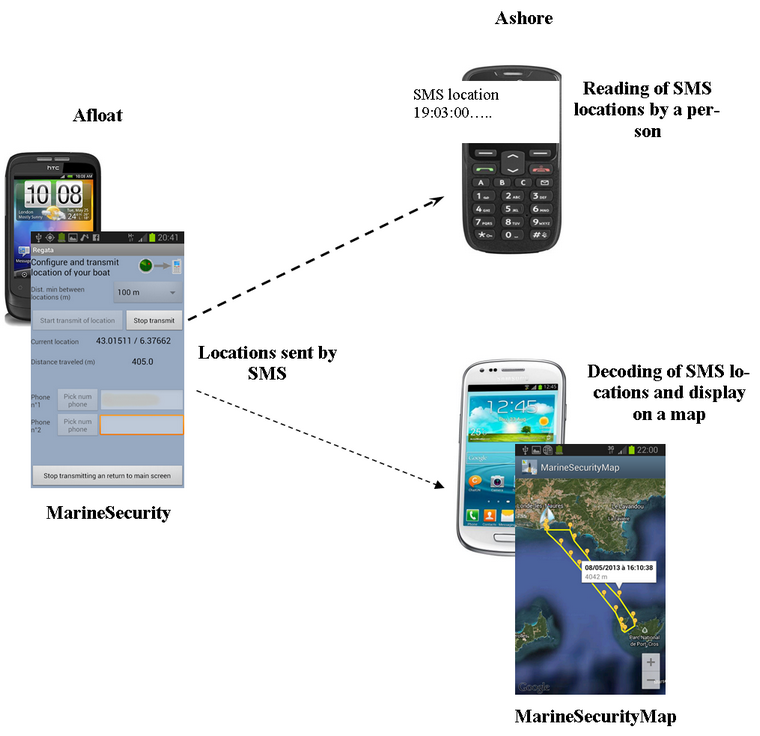 General informations:
MarineSecurity and MarineSecurityMap are developped in France.
MarineSecurity and MarineSecurityMap are delivered without garanty. All use is under responsability of users.
The good running of the software bases on the electronic capacities of your telephone or your tablet (GPS, sending of SMS). The software's developer is not responsible for all the damages which could arise during use of this software (no detection of movement for example by the phone or the tablet).
You must have a GPS embedded in your phone and a telephone connexion for enjoy full capabilities of MarineSecurity